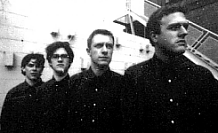 NORTH of AMERICA present an emotive brand of new music that both recognizes and expands upon the canons and clichés of a decade of guitar based indie rock. While blending the atonal guitar work of early era Chapel Hill bands with the math and dynamics of Chicago's more progressive sound, NORTH of AMERICA find their anchor in the urgency and sincerity of the DC influenced scene, dropping indie rock's typical tongue-in-cheek smarminess in favour of a more intelligent and serious approach. All of this is filtered through a well developed sense of structure and arrangement, preventing the songs from becoming mere exercises in musical athleticism and allowing for the occasional foray into hook-laden pop song delivery.
The band has been together since the end of 1997, and released their debut EP, "Elements of an Incomplete Map" just 6 months later. North of America's latest release is "These Songs Are Cursed," and album that has been garnering rave reviews, and has captured the Number 1 spot on Canadian College Radio.
Label:
Matlock Records

Discography:
"These Songs Are Cursed" CD, Matlock Records (1999)
"Elements of an Incomplete Map" CD, Matlock Records (1998) "Bayonet Point" 7", Montesano Records (1999)
All Matlock releases are available through the label or at nodistribution.